Product Description
SMAN460 - Wireless 4-Port Digital Manifold with Micron Gauge
Premium Digital Manifold - Vacuum equipped 4-Port Manifold with ATC1 clamps and Hood.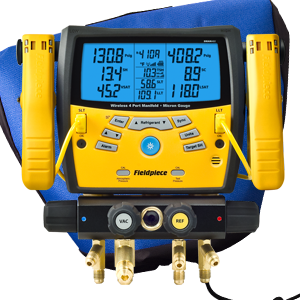 On Target with Live Measurements
Extra rugged design

Live real-time adjustments with wireless measurements

Micron vacuum gauge with alarms, stopwatch, and rate indicator

Large 3/8" full bore and VAC port

All measurements on screen at one time
The SMAN460 wireless four-port digital manifold is the top-of-the-line Fieldpiece manifold. It has more features and benefits than any other manifold on the market. With target superheat automatically calculated, simultaneous superheat and subcooling, all 9 measurements displayed on the large, easy-to-read screen, extra large 3/8' full bore and 4th VAC port, and wireless measurements for real-time system diagnosis and charging, the SMAN460 is the manifold HVACR pros trust to do more.
Coupled with the JL2 Job LinkTM Mobile System Transmitter and the SDP2 Dual In-duct Psychrometer, you get all your readings in the Job LinkTM Mobile System App as well as pre- and post-work check lists, in-depth system diagnostics, report emailing, and cloud storage for all work completed.Plus it has a built in micron vacuum gauge with gives technicians the ability to set high and low alarms, and a stopwatch, as well as view the micron rate of change.
Units of Measurement: - Psig, kPa, MPa, bar, inHg, and cmHg
Measures: - 2 Pressures & 2 Temperatures
Calculates:
- Superheat
- Subcooling
- Target Superheat
- Vapor Saturation
- Liquid Saturation
Wireless Advantage
- Receive indoor wet bulb and outdoor dry bulb measurements for live target superheat (additional instruments required).
- Send measurements to Fieldpiece wireless system analyzers for diagnostics, data storage, and reporting.
Micron Alarms and Stopwatch
- Set high and low alarms (microns of mercury).
- Activate low alarm when you start pulling down. The stopwatch will start. When your low alarm sounds, the stopwatch will restart.
- Activate high alarm when you isolate the system and the stopwatch resets again. When the system rises to your high alarm, the stopwatch will freeze.
- Watch rate of change while pulling vacuum.
4 Ports for One Time Hookup
- Connect to high side, low side, vacuum pump, micron gauge, and recovery machine (or refrigerant tank). Then use the valves as needed to recover, evacuate and charge the system.
3/8" Vacuum Port
- The large 3/8" vacuum port and 3/8" full bore speeds up evacuation and charging.
Display Designed for HVAC-R
- Huge screen with the information you need.
- No more cycling through temperatures.
- Calculated and measured values all shown.
- Expanded temperature tolerances allow for testing in refrigerators and on rooftops.
- Rugged polycarbonate LCD cover.
- Bright backlight.
Temperature Solutions
- Pipe clamps grip tight for speed and accuracy.
- External cal. pots for easy field calibration.
Reliable Regardless of Elevation
- Absolute pressure sensors give you accurate readings at any elevation.
Lab Quality 2-Point Field Calibration
- Calibrate pressure sensors to the known pressure of your refrigerant tank at a known temperature for high accuracy over the entire pressure range.
And More
- Front facing hose seats limit dirt and grime entering your manifold.
- Sight glass to view refrigerant flow.
- 45 refrigerants listed in order of popularity.
- Receive free future product updates through Mini-USB port.

Auto-Power-Off (APO).

NIST traceable.

Wireless enabled for Logging, Tests & Target superheat capture.

USB port for updating firmware. [cable not included]
Product Videos
Custom Field
Product Reviews